RD-TJ Test Jack and RM-TS
The RD-TJ Test Jack allows direct connection of the RM-17-01 Socket Adapter to an RD-2x Primary Watthour Reference Standard. When in the calibration mode the RM-17-01 hand controller works as a comparator counting pulses of both the RM-17-01 socket adapter and the RD-2x Primary standard. The RR-TJ is necessary for performing an accuracy cross check or for adjusting calibration on an RM-17 or RM-18 Portable Test System.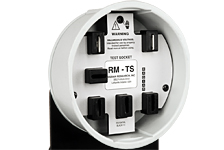 The RM-TS Test Socket effectively interfaces the RM-17-01 to a potential source for testing purposes. The RM-TS connects voltage to the blades of the socket adapter portion of the RM-17-01. The RM-TS will generally be used in conjunction with the RM-TJ Test Jack.