Overview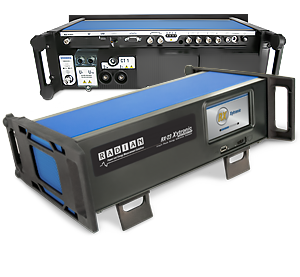 PRODUCT HIGHLIGHTS
Radian Research is committed to providing our customers with leading innovative and technologically superior products, while maintaining metrology capability in power and energy measurement that is surpassed by none. Our engineers drew on the expertise and knowledge we acquired for our industry-leading legacy RM (Metronic) and RD (Dytronic) reference standards to develop the RX (Xytronic), the ultimate in power and energy measurement technology perfection.
Extended Measurement Range The RX is designed to operate over a broad Current, Voltage and Power Factor measurement range. A dynamic range of 30 VAC - 600 VAC and 5 mA – 200 A provides the versatility to operate in a multitude of power and energy applications. The AC direct current input provides fixed impedance (0.0005 Ohm) over the entire AC current input range. This capability is key to applications that require a fixed input burden and accurate yet fast measurement speed. The RX provides single-phase fully auto-ranging, simultaneous four-quadrant precision measurements, computes, records and presents instantaneous metrics. The RX allows the user to do more with a single instrument.
Internationalization The RX is designed for a global market where user languages may vary. The RX accommodates different languages as well as selectable VAR calculations and a broad range of energy measurement metrics including fundamental only Watts, VA and VAR. RX VAR calculation modes include Voltage 90 degree shifted, Integral VAR, Integral VAR 50 Hz, Integral VAR 60 Hz, RMS VAR, and Fundamental VAR.
Accurate in Extreme Environments Most Power and Energy reference standards are designed to maintain accuracies in a temperature controlled laboratory environment. Not the RX, it is at home in a temperature controlled measurement lab and at a test site where the environment is outside the operator's control. Radian's confidence in the RX design is supported by the guarantee that it will meet class accuracy at specified temperature extremes. You can test with confidence when using the RX.
Technical Data

Dimensions
Weight


4.5"(114mm), 15.5" (394 mm), 7.5" (190 mm)
7.5 lbs (3.4 kg), Shipping weight 16 lbs (7.3 kg)

Ambient Temperature Range


Humidity
Max. height above sea level
Vibration
Supply Voltage
Power Consumption
Typical AC/DC Power Supply
Warm-up


Storage... -40 ºC to +80 ºC
Operating... -20 ºC to +65 ºC
Specified Accuracy... 0 ºC to 40 ºC
0% to 95% Non-condensing
2,000m
All Non-destructive
24 Vdc + 10%
~25 VA max.
AC Input 100 to 240V, 50 to 60Hz
<60 Seconds

IP Class
International Compliance CE directives:


Overvoltage Category Voltage Measurement
Overvoltage Category Current Measurement
Hi-Pot & Surge
Fused Potential Input


IP30 (According to DIN EN 60529)
Low Voltage 2014/35/EU (IEC 61010-1, -2-030)
Electromagnetic Compatibility 2014/30/EU (IEC 61326-1. -2-1)
ROHS 2 2014/30/EU
CAT IV 600V
CAT IV 600V
IEC 61010-1
500 mA Ultrafast - SIBA 70.172.40.0.500 or Equivalent

Touch Screen Color Display:

I/O Ports:
Communication Interface Port / Protocol



Memory


External Monitor Port
External Touch Screen Port
Optical Sensor Port
Output Reference Clock


Integrated 4.3", Backlit LCD Color Screen (Optional External Touch Screen Display Available)

Serial RS-232 / Supports Radian Legacy RD Commands Ethernet / Standard Commands for Programmable Instrumentation
(SCPI) Protocol
Internal (Max. Storage 2,000 Mbytes)
External SD (Max. Storage 32 Gbytes)
External USB
Front Panel Video (Optional Monitors Available)
USB 2.0
4 Pin Lemo (Optional Optical Accessories Available)
10/20 MHz selectable, 5V TTL compatible


CT Ports


Bidirectional Programmable Pulse/

Frequency Comparator BNC Ports


Outputs 1, 2, 3 & 4: (Default = 0.00001 Wh/Pulse)




Direct AC Current (I) Inputs





Indirect Current (External CT Input)


Potential (U) fused Inputs




Cable Accessories





Analog Sense (RX-AS) Option


See Radian Web Site for available compensated and uncompensated current clamps

Input Termination 128 Ohm/1 KOhm Pull Up to 5 V, Max External Pullup +27V
Input Gate rate 200 nS Pulse Width Minimum, Maximum 20 Hz Repetition Rate

Short Circuit Tolerant.
Programmable Kh Value
Nominal 5 V, Open Collector Compatible, Max. 27V
Max. 2.1 MHz (200nS Pulse Width Minimum)
Selectable Watt Hours, VAR Hours, VA Hours

Range: 1 mA to 200 Amp
<500µOhm Input Impedance
Termination: 6 mm Female (<120 Amp) or Male CONLOC (< 200 Amp)
Optional Current Cable Termination and Adapters available

Max. input: 1 Amp
Termination: 7 Pin Female Redel Connector

Range: 30 V to 600 V (60Hz), 30 V to 525 V (50Hz)
1M Ohm Input Impedance
Termination: 4 mm Female
Protection: 500mA Fused

Legacy cable locking adapters (supplied)
AC to 24 DCV Converter (supplied)
3 pair 1m Potential Cables (supplied)
Unterminated 120A or 200A Locking Current Cables (Optional)

-20mA to +20mA DC max., BNC Input, Accuracy 0.02% + 1µA
Notes:
1TCAL = 23 ºC
2 5mA to 20mA Derated to 0.02%
3 Total Expanded Uncertainty in accordance with ISO/IEC Guide 98-3:2008
Includes variables of Stability, Crosstalk, and Traceability Uncertainty
Accuracy represents expanded uncertainties expressed at the 95 % level
of confidence using a coverage factor of k = 2
4 For Power Factor < 0.5, ± (0.005% / PF) Maximum
5 For
1 Second Intergration Time
6 Maximum 30 V to 525 V at 50 Hz
7 Maximum 0 ºC to +40 ºC
8 For Power Factor = 1 Cal Uncertainty = 30 ppm
9 For Power Factor >0.5 to <1